Can't send Yahoo email from Gmail (SMTP)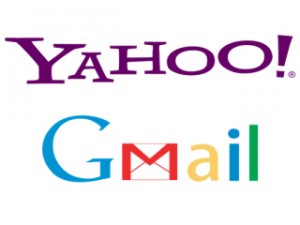 Problem (Yahoo! from Gmail)
I use Gmail as my primary email system. I own multiple email addresses from different email providers and domains. It is therefore useful to be able to change the 'from' email address when sending emails from within gmail, to one of these email addresses. I had this setup perfectly for everything, however today when I tried emailing in Gmail using my Yahoo! email address as the sender (from address) it failed with the following message:
Unfortunately, messages from [IP ADDRESS] on behalf of (yahoo.com) could not be delivered due to domain owner policy restrictions
Reason (Using Gmail SMTP)
After some googling around I discovered that Yahoo! have now increased their security so things have changed. I used to use the Gmail SMTP as the mail server to send emails using my Yahoo! account. This used to work. I have now corrected the problem to use the Yahoo! SMTP servers.
The correct settings for the SMTP are:
smtp.mail.yahoo.com
The username is the part of your Yahoo! email address before the @, and the password is just your Yahoo! password. Port 465.
Solution (Use Yahoo! SMTP)
You need to:
Click the gear icon  (usually top right somewhere)
Select Settings
Select the Accounts and Import section
Locate your Yahoo! email address in the Send mail as section, and then click the edit info link
Now click the Next Step >> button
In the SMTP Server section enter smtp.mail.yahoo.com
For username enter the part of your email address before the @ sign, i.e. enter fredsmith and not fredsmith@yahoo.com
For password enter your Yahoo! password (note if you're using two-factor authentication you will need to create an app password from within Yahoo!)
Now click the Save Changes button
You should now be able to send emails in Gmail as if they were coming from your Yahoo! email account. This saves you having to login to Yahoo!
Copyright Technology Wales 2015